Details

Published: Wednesday, 08 December 2021 15:00
In the latest edition of our Immanuel devotional, Lorna Wilkinson has thrown us a 'curve ball' as we come to the letter 'U', which, in this instance, is for YOU 🙋🏿‍♀️🙋🏼‍♂️:
 
"… the mystery hidden for ages and generations but now revealed to his saints. To them God chose to make known how great among the Gentiles are the riches of the glory of this mystery, which is Christ in you, the hope of glory." Colossians 1:26-27
Details

Published: Wednesday, 01 December 2021 15:00
As we continue our Immanuel devotional series, Lorna Wilkinson now brings us to 'N' - No Room ✋🏻🚫.

Amidst the celebrations of the Saviour coming into the world, there were those who had no room for the Lord Jesus, not simply in relation to the manger where He was born, but, much more importantly, in their lives. Indeed, not even the king of the land, Herod the Great, welcomed this new arrival - "When Herod the king heard this [about Jesus' birth], he was troubled, and all Jerusalem with him" (Matthew 2:3).
Details

Published: Wednesday, 24 November 2021 15:00
In the next edition of our Immanuel devotional series, Lorna Wilkinson has a major event in mind for the letter 'A' - the Announcement of the Saviour's birth! (Luke 2:8-20)
.
After Israel had experienced 400 years of silence, and the chief priests and scribes were not looking for a Saviour, God chose humble shepherds to be the recipients of a universal announcement. Suddenly, a great heavenly host of angels praised God and gave Him the glory!
Read more: Word for your Week IMMANUEL Devotional - Announcement
Details

Published: Tuesday, 23 November 2021 12:30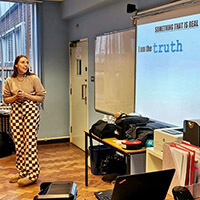 We can't keep Danny Roberts and Lucy McAllister in the office at the moment (but that's a happy complaint!) 🚐 🙂.
Their destination today was Lisnagarvey High School, Lisburn, to meet the with SU Group and deliver our 'I Am' programme, a study of the declaration made by Jesus in John 14:6: "I am the way, and the truth, and the life. No one comes to the Father except through me." 📖💬.
Read more: Youth and Schools team visit Lisnagarvey High School
Details

Published: Friday, 19 November 2021 12:39
On Friday, Danny Roberts and Lucy McAllister enjoyed a great afternoon with pupils at Movilla High School, Newtownards, as they lead the Junior and Senior SU Groups through week two of this year's Shine programme 💡🙂
Having considered different influences and influencers in week one, in week two the pupils reflected on various influences in their own lives and listened to Danny's testimony, which includes his experience of letting the wrong influences impact his life as a teenager.