Details

Published: Tuesday, 23 November 2021 12:30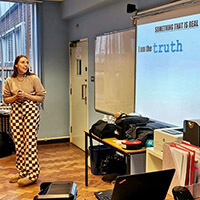 We can't keep Danny Roberts and Lucy McAllister in the office at the moment (but that's a happy complaint!) 🚐 🙂.
Their destination today was Lisnagarvey High School, Lisburn, to meet the with SU Group and deliver our 'I Am' programme, a study of the declaration made by Jesus in John 14:6: "I am the way, and the truth, and the life. No one comes to the Father except through me." 📖💬.
Read more: Youth and Schools team visit Lisnagarvey High School