To commence our new blog series, 'God's Emeralds', showcasing famous Irish missionaries who have served so courageously and valiantly on mission fields around the world, it feels only right to start with a 'true gem' from the history of missions and one of the most well known in Ireland - Amy Carmichael.
Amy Carmichael lived life as a devoted servant of the Lord Jesus Christ, which was reflected in her faith and the risks she took to extend the Kingdom of God. When asked what one might expect from life on the mission field, Amy replied, "Missionary life is simply a chance to die."
Human-trafficking is not a new criminal enterprise highlighted only in recent years due to certain Hollywood film franchises, sadly it has been present across the world for centuries. According to the United Nations Office on Drugs and Crime, "Human Trafficking is the recruitment, transportation, transfer, harbouring or receipt of people through force, fraud or deception, with the aim of exploiting them for profit." [1]
120 years ago, one single, often sick, missionary woman from Ireland dared to challenge human-trafficking in India. At that time, Hinduism encouraged the temple slavery of children. It was prostitution perpetrated in the name of religion, where little children were sold to 'marry' the Brahmin temple priests. When Amy Carmichael discovered what was happening, she was so horrified by the practice that she began a ministry to rescue children. 
'You can always give without loving, but you can never love without giving'
Early Beginnings
Born in the coastal village of Millise, County Down in 1867, as the eldest of seven children, Amy grew up in a devout Christian family. Her parents taught her and her siblings of the love of God, the need to accept Jesus as Saviour and the power of prayer.
In 1883, aged 15 and attending a girls' boarding school in Harrogate in Yorkshire, Amy put her faith in Jesus Christ as pupils sang 'Jesus loves me, this I know; for the Bible tells me so', during a special children's mission. Years later, Amy wrote: "My mother had often talked to me about the Lord Jesus and, as I sat on her knee, she had sung hymns to me. I had felt the love of the Lord Jesus and nestled in his love just as I had nestled in her arms. But I had not understood that there was something more to do, something that may be called coming to him, or opening the door to him, or giving oneself to him."
A year later, her father, having lost his job, moved his family to Belfast. Then, when Amy was eighteen, her father grew ill and died, leaving the family alone with unstable finances. During the next ten years, Amy stayed home to help her mother take care of and tutor her younger siblings.
'All along, let us remember we are not asked to understand, but simply to obey ...' 
Called to Ministry
One cold and wet Sunday morning, returning from church, Amy and her brothers helped a poor, elderly woman, who was carrying a heavy bundle. As they passed a drinking fountain, Amy heard the words from 1 Corinthians 3:12-14: "If any man build upon this foundation using gold, silver, precious stones, wood, hay, stubble, every man's work shall be made manifest, for the day shall declare it, because it will be revealed by fire."
Turning to see where the voice had come from, she saw only the fountain and the muddy street. Amy said nothing to anyone but knew something life changing had occurred. She shut herself in her room that afternoon, talked to God, and settled her future. Nothing would ever matter again but the things that were eternal.
Amy started visiting people, teaching children and visiting the slums with the Belfast City Mission. She befriended local girls called 'shawlies', who worked in nearby mills with poor conditions, long hours and low wages. Amy started Bible studies and brought the girls to church services, but they were not welcomed by everyone. As the Bible class grew, she raised funds to purchase a tin building where they could meet regularly. Amy bought 'The Tin Tabernacle' for £500, calling it 'The Welcome Hall'. The building still stands today and is called Welcome Evangelical Church, located off the Shankill Road in Belfast.
In 1888, the Carmichael family faced bankruptcy and Amy's mother moved the family to Manchester, England. Here, Amy continued to work and live in the slums. The streets were dangerous and the conditions terrible, yet Amy remained steadfast and unmoveable in her faith, while spreading the love of God to the poor. The cost was great as Amy's health began to deteriorate. Soon, she became desperately ill and suffered from neuralgia - a disease that attacked her nerves, making her whole body fatigued and sore, often keeping her in bed for weeks at a time. She moved to live with a family friend by the name of Robert Wilson and stayed with his family for two years.
It was during her stay with the Wilsons that she first heard the missionary Hudson Taylor speak at a Christian Missionary Convention called Keswick Convention (which Robert Wilson had co-founded). As she listened to Taylor speak, she felt the Lord telling her to become a missionary, yet she did not know where or how. Wilson's contacts through Keswick allowed her to hear exploits from the mission fields around the world which inspired her further.
"God, Hold us to that which drew us first, when the Cross was the attraction, and we wanted nothing else"
Becoming a Missionary
Amy began the process of looking for a mission agency who would send her overseas. Having first applied to China Inland Mission (CIM) in 1892, she was rejected on health grounds. After much prayer, persistence and perseverance, in 1893, Amy was accepted as the first Keswick missionary to join Church Missionary Society (CMS). Amy set sail for Japan, where she stayed for 15 months assisting work led by Barclay Buxton. There, she gained valuable experience of mission work and learnt more of the importance of prayer.
Amy enjoyed a fruitful ministry, winning many souls for Christ. However, the more she won, the more her health deteriorated. Her neuralgia became so bad that the doctors advised her to leave Japan for a more suitable climate. 
In 1894, Amy received an invitation from a friend to join the Church of England Zenana Mission in Bangalore, before serving for a brief time in Sri Lanka. In November 1895 she arrived in South India, never to depart. She went to live in the Tinnevelly district with CMS missionaries, Reverend Thomas Walker and his wife, who taught her the Tamil language and encouraged her in evangelism. The Indian climate was better for Amy's health, with the heat supressing some of the pains in her body.
Amy didn't follow normal missionary methods of working, but wore Indian clothes, including the traditional Sari, and lived amongst Indian women called 'the Starry Cluster', who had been persecuted after converting to Christianity from Hinduism. She shared the gospel fervently and passionately, winning many to Christ.  
One day, Preena, a little girl whose widowed mother had sold her to a Hindu temple, heard Amy sharing about God's love. Preena had been chosen to marry one of the temple's main gods and become a temple prostitute. She tried to run from her plight but was caught, and her hands were branded with a red-hot poker as punishment. Scared and afraid, Preena remembered Amy sharing God's love. Managing to escape from the temple successfully, she turned up at Amy's door. Amy, fearing for Preena's life, took her into her care.
The encounter opened Amy's eyes, as she became increasingly aware that many unwanted Indian children were being dedicated to the temple gods by their parents or guardians. They became temple children - trafficked and sold to 'marry' the Brahmin temple priests. This practice was deeply rooted and encouraged within Hinduism.
'When I consider the cross of Christ, how can anything that I do be called sacrifice?'
Dohnavur ministry
Having discovered the unspoken horrors that the children faced, Amy realised the Lord was giving her a new ministry and she devoted the rest of her life to it. She began to take temple children into her care, first girls and then boys, creating a growing refuge for vulnerable children.
In 1901, Amy Carmichael and the Walkers moved to nearby Dohnavur. There, Amy founded The Dohnavur Fellowship, which became a sanctuary providing shelter to former child prostitutes. She would devote the next fifty-five years of her life to rescuing children from the temples and raising them as her own.
When the Hindu priests found out, they were furious. Often the children's families or other women from the temple would track them down and demand them back. It became worse if the children became Christians, as they were bitterly persecuted by their extended families.
Amy also encountered opposition within the missionary community who condemned her ministry. Although child-trafficking was not new, they thought she exaggerated the situation of temple prostitution. To educate people, Amy pretended to be an Indian and visit the temples herself. She would stain her light skin brown with coffee or tea bags, and her brown eyes helped her fit right in. No one would guess that this dark-skinned woman wearing a light blue sari, which was associated with the poorest in society, was a missionary from Ireland. 
Amy never tried raising funds. Instead, she was in constant conversation with God for all the financial and medical provisions needed to sustain the ministry. In 1912, Queen Mary recognised her work and helped fund a hospital at Dohnavur. By 1913, The Dohnavur Fellowship was housing one-hundred-and-thirty girls, and over thirty Indian Christian women volunteered to serve in the ministry.
In 1918, Amy added a home for young boys, many of whom were born to former temple prostitutes. They were taught to love and fear God and eventually, when the children grew up, many of them married godly spouses and served within the work at Dohnavur. The ministry began to transform Indian society and provided a safe refuge for over a thousand children. Every child that came into Amy's house was given a new name and loved unconditionally with the love of God.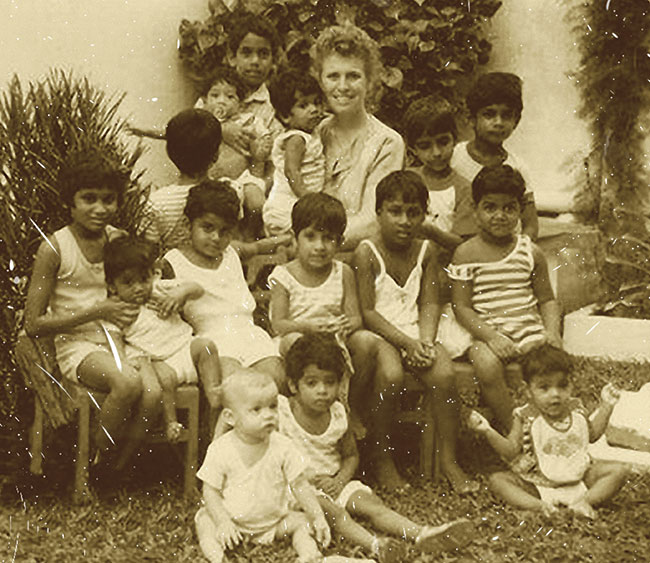 After a bad fall in 1931, in which she broke her leg and ankle and badly damaged her hip and back, Amy was unable to walk normally again. Her injuries, coupled with her neuralgia, confined her to bed, where she spent the last twenty years of her life directing the mission.
These proved to be productive years. Whilst her movements were limited, her ministry was not. She passed on the work of rescuing children to 'the Starry Cluster' and began writing books and poems about her intimate relationship with God and her love for Jesus. Over two decades, she wrote thirty-seven books, which have inspired missionaries and encouraged Christians around the world.
Amy's perseverance and tireless labour in spite of great opposition eventually resulted in social reform, when temple prostitution was outlawed in 1948. Today, whilst trafficking still exists in India, Amy Carmichael's legacy made a profound lasting impression on Indian culture.
On January 18th 1951, Amy Carmichael, aged eight-three, passed away peacefully at Dohnavur. She had served faithfully for over fifty-five years on the mission field in India, with fifty of those years dedicated to service at The Dohnavur Fellowship. She never married or left India to return to home. A birdbath under a tree in Dohnavur honours her memory and legacy. On it is inscribed a simple word: 'Amma' meaning 'mother'.
'We will have all eternity to celebrate our victories, but only a few short hours to win them'
Legacy
The impact of Amy Carmichael's missionary achievements is still visible today. The Dohnavur Fellowship continues to care for rescued children. It supports around 500 people on a site of four hundred acres, with sixteen nurseries and a hospital. In addition, Amy's story has inspired many believers to pursue missions, including Jim and Elisabeth Elliot. It demonstrates how God can use people in a mighty way if only we are open and willing to obey His voice.
Amy Carmichael is a fitting subject for our first blog post in the 'God's Emeralds' series. She was a precious jewel, forged in adversity and countless trials, who reflected the image of God to those who met her. May her story inspire you to follow in her footsteps, if that is what the Lord asks of you.
'It is a safe thing to trust Him to fulfil the desire that He creates.'
Resources
[1] https://www.unodc.org/unodc/en/human-Trafficking/Human-Trafficking.html
https://www.evangelical-times.org/40214/the-life-and-legacy-of-amy-carmichael/#event-j-h-newman
https://www.bu.edu/missiology/missionary-biography/c-d/carmichael-amy-beatrice-1867-1951/
https://churchmissionsociety.org/our-stories/unsung-heroes-no3-amy-carmichael/
https://bethanygu.edu/blog/stories/amy-carmichael/
https://canonjjohn.com/2020/10/10/heroes-of-the-faith-amy-carmichael/